Jeff Olliffe, M.D. – Medical Director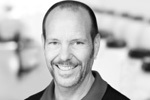 Dr. Jeff Olliffe conducts the initial and follow-up exams for our donors. He also works alongside our geneticist in the process of approving candidates into our program. Dr. Olliffe is a Member of the American Academy of Family Physicians, the Washington State Medical Society, the King County Medical Society and affiliates with Swedish Medical Hospital. Dr. Oliffe is a precept/instructor at the University of Washington Department of Family Medicine and has an affinity for bringing fertility options to those who are biologically incapable of producing offspring.
Charles H. Muller, PhD HCLD
Dr. Charles H. Muller's research is in the areas of fertilization, male reproduction and prostatitis. He is the Director of the Male Fertility Laboratory, a clinical lab which evaluates human sperm fertilizing ability. Dr. Muller's research in mouse and human sperm function focuses on the molecules involved in sperm maturation in the epididymis and sperm capacitation; and on the interactions between sperm and egg.
Thomas J. Walsh, MD, MS
Assistant Professor, Department of Urology
School of Medicine University of Washington

Francis X. Moga, MD
Specializing in Cardiothoracic Surgery, Dr. Moga joined the Children's Heart Clinic in 2000. Dr. Moga is Board certified in Surgery and Thoracic Surgery.